Why not do a virtual run in December and help a great cause?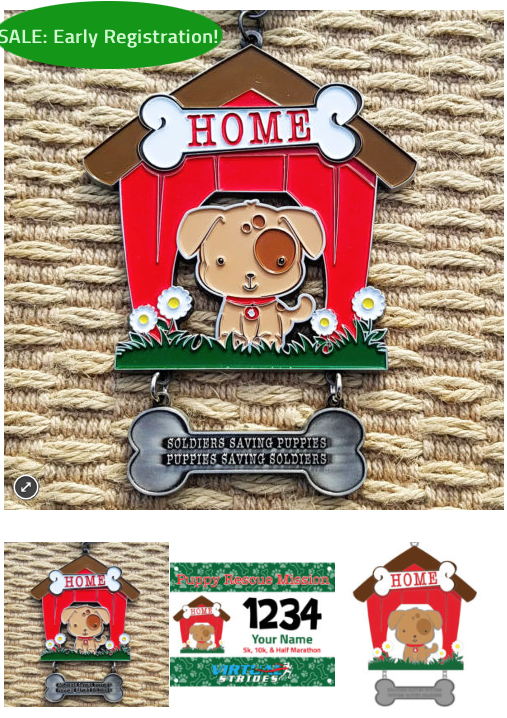 Accept the challenge and do a virtual run of 5k, 10k Half or Full marathon.
You will get a nice medal and a great sense of self satisfaction.
Are you feeling the extra weight of the holidays already?
Don't be that person that waits until January to start getting back into shape.
Do it now and help a great cause.
This month will benefit the Puppy Rescue Mission.
The Puppy Rescue Mission (TPRM) assists in pet rescue, foster and re-homing when needed, in particular pets of soldiers, especially those deployed in war zones. The organization assists with requests, logistics, administration and fund-raising for the adopted stray dogs of war, rescued by and bonded with soldiers. This may include vet care, supplies, transport and related issues. TPRM works with or through other organizations that help our soldiers bring their companion animals home from war.
So use the link below and sign up for any race length you want. It is for a great cause.
The Rules
The rules are simple. Sign up for the race, run it anytime in December and send in your results.
You get a race bib and a medal to show for your efforts.
But you are not done yet….
The difference is we are not going to be satisfied with 1 day. I am asking all my in home and online clients to turn this into a month long challenge.
But since a portion of your sign up fee goes to a great cause, I want to open this up to everyone.
Option 1: Pick one of the following or mix it up.
Run outside
Run on a treadmill
Indoor bike
Outdoor bike
Swim
Walk
Skip, hop or kangaroo hop
Think about a number of miles you can realistically do this month. Please don't make the mistake of putting down what you think I want to hear. I want you to be truthful with yourself because this is December and most people are going to find it hard to make time to workout.
Option 2: Pick a number of days you are going to workout
Commit to a number of days you are going to do either a cardio or strength workout.
Let me know your commitment either through email or Facebook, Twitter etc…You know how to get hold of me.
I will be posting my commitment Dec. 1.
P.S. I know this is the holidays. If you are really strapped for cash and can't afford the $25 sign -up, you can still take part in the challenge.
Wouldn't it be nice to start the new year with a little momentum.
Do the work, sit back and enjoy your medal with your favorite beverage!
Questions? I have them answered for you. Click here for Fitness Challenge F.A.Q.'s
http://mfactorfitnessandnutrition.com/wp-content/uploads/2017/09/MFactor_Fill_noTag.png
0
0
Michael Medvig
http://mfactorfitnessandnutrition.com/wp-content/uploads/2017/09/MFactor_Fill_noTag.png
Michael Medvig
2016-11-28 15:07:13
2016-12-01 16:41:55
M Factor Fitness December Cardio Challenge- The Puppy Rescue Mission Virtual Run