In Home Personal Training for Parker, Castle Rock, Castle Pines, Franktown and Elizabeth, Colorado
Corrective Exercise, Strength Training and Weight Loss
"I wish I had called you a long time ago".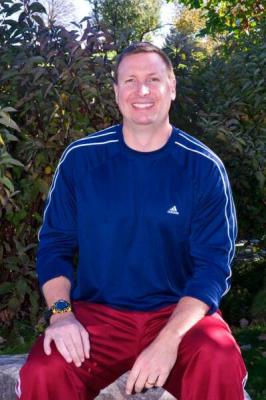 I can't tell you how often I hear that from my clients.
I joke with them and tell them that nobody every calls me first!
I think it is human nature.
In home personal training sounds expensive and exotic, doesn't it?
You may initially think that the idea of a personal trainer coming over to your house is a little much.
After all, you have tried other programs and lost weight and toned up before.
So you try to get in shape with the least expensive option. Again, human nature.
Maybe you join a gym, a bootcamp or buy a DVD from an infomercial.
And for some people that works…for a while.
Most of my clients…in fact all of them have tried those methods and found themselves frustrated with lack of progress and/or injured.
Some even have tried personal training with a trainer who was nothing more than a glorified gym coach.
"I'm one of Michael's clients and have been for a year. He's fantastic, extremely knowledgeable and reasonably priced. Working out with Michael truly changed my life;I had a back injury that he has helped me overcome. I got my life back..highly recommend him."
Valerie I, Parker Co.
So what is Corrective Exercise?

The BioMechanics Method® is a systematic process used to alleviate back pain and other chronic pain created by Justin Price, one of the top musculoskeletal assessment and corrective exercise experts in the world. This revolutionary approach to pain relief incorporates structural assessments, corrective exercise techniques and life coaching strategies into a simple system that makes improved function and pain-free living a reality for people plagued by muscle and joint pain. The BioMechanics Method has been used by Justin for nearly 20 years with absolutely amazing results to help people overcome the effects of back, neck, shoulder, knee, ankle and foot pain.
P.S. if you just want the facts about my training, go to the FAQ page to see answers to the most common personal coaching questions.
Are you ready for a life changing experience?
Typically clients 35-75  years old will get a lot more out of what I do than anyone else.
"We have been using Mike for over two years. He comes to our house 3x's a week and has helped us to worked out a bunch of our aches and pains and gain strength (we are in the 55 + age group)."
Gina D, Parker, Co
Why?
Because your body is changing and your lifestyle has probably changed.
My typical client is dealing with nagging injuries such as sore knees, back and or neck pain.
Add to this a hectic schedule and the simple idea of losing a few pounds gets a lot harder than it should be.
My coaching teaches you how to fix those nagging injuries and be pain free.
What exercises to do and which ones to avoid.
How to effectively workout in your home.
How to use proper form.
How to eat better to achieve your goals.
I need to show you how to fit exercise and nutrition into your lifestyle.
That is why I have been selected as Trainer of the year in Parker for the last 3 years.
M Factor Fitness in home personal training means I come to you.
If you have equipment that is great. If not, I always carry a bunch of exercise stuff with me.
Summary
Think of in home personal training as an investment.
Paired with my online training, I can make my coaching fit any budget.
The next step?
If this sounds good, give me a call and we can schedule a free 30 minute consult to see if this is right for you.
Why do personal training?
The most enjoyable thing about what I do is show people that they are a lot better than they think they are.
People come to me and they are at a crossroads. Some lack confidence, have body issues, a lack of self-confidence and are generally at a low point.
Getting in shape is more about changing the way you think and perceive things than the actual exercises.
Exercises are exercises. You can find them anywhere on line.
Although I see some truly awful ideas, most of the workout programs will produce some good results.
The key is not finding the right workout. The key is working with a coach that can unlock or breakthrough those things holding you back from achieving success. That is what I enjoy about my job.
 Make personal training more affordable by working out with a friend or two.
It is true. I train families, friends co-workers and couples.
Ready to get started?
A little intimidated?
All testimonials are from actual clients. Results will vary.
Michael has gotten me into the best shape I've been in in 25 years. I hate going to the gym and having him train me in my home has enabled me to get back in shape the way I want to. It's great to feel like an athlete again! Can't recommend him enough!
*Results vary by client and are not guaranteed.
Working with Michael has been absolutely terrific! Michael works with several of us simultaneously and is able to contour the workouts to our varying degrees of strength and flexibility. His training techniques and professionalism make the workout sessions a lot of fun but very intense. I actually now really look forward to our workout sessions and training with Michael.
*Results vary by client and are not guaranteed.
Mike is great at what he does.  He preaches what he believes.  The workouts are incredible.  I have been with other trainers and non compare to Mike.  Keep up the good work!
*Results vary by client and are not guaranteed.