Does In Home Training seem a little intimidating?
I hope not. Here is my philosophy on getting in shape, weight loss and all that stuff.
"I wish I had called you a long time ago".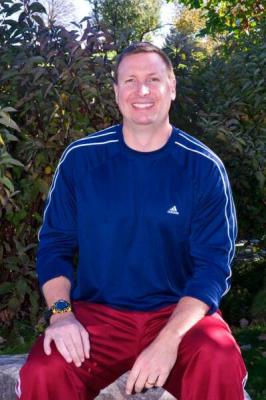 I can't tell you how often I hear that from my clients.
I joke with them and tell them that nobody every calls me first!
I customize the workouts to your ability.
We will set reasonable goals that you can achieve without making drastic changes to your life.
You will get a special programs to fix back, neck, hip or knee pain if you have any of that.
I will never tie you into a contract.
"I'm one of Michael's clients and have been for a year. He's fantastic, extremely knowledgeable and reasonably priced. Working out with Michael truly changed my life;I had a back injury that he has helped me overcome. I got my life back..highly recommend him."
Valerie I, Parker Co.
The next step?
If this sounds good, give me a call and we can schedule a free 30 minute consult to see if this is right for you.
What was that thing you were saying about fixing back, knee, shoulder and hip pain?
I noticed a while back that most of my clients had issues with their joints that prevented them from moving properly and living pain free. Corrective exercise is a way to assess why this is happening and fix it with simple exercises, foam rolling etc… Here is a loittle more about my certification.

The BioMechanics Method® is a systematic process used to alleviate back pain and other chronic pain created by Justin Price, one of the top musculoskeletal assessment and corrective exercise experts in the world. This revolutionary approach to pain relief incorporates structural assessments, corrective exercise techniques and life coaching strategies into a simple system that makes improved function and pain-free living a reality for people plagued by muscle and joint pain. The BioMechanics Method has been used by Justin for nearly 20 years with absolutely amazing results to help people overcome the effects of back, neck, shoulder, knee, ankle and foot pain.
P.S. if you just want the facts about my training, go to the FAQ page to see answers to the most common personal coaching questions.
"We have been using Mike for over two years. He comes to our house 3x's a week and has helped us to worked out a bunch of our aches and pains and gain strength (we are in the 55 + age group)."
Gina D, Parker, Co

The next step?
If this sounds good, give me a call and we can schedule a free 30 minute consult to see if this is right for you.
Why do personal training?
The most enjoyable thing about what I do is show people that they are a lot better than they think they are.
People come to me and they are at a crossroads. Some lack confidence, have body issues, a lack of self-confidence and are generally at a low point.
Getting in shape is more about changing the way you think and perceive things than the actual exercises.
Exercises are exercises. You can find them anywhere on line.
Although I see some truly awful ideas, most of the workout programs will produce some good results.
The key is not finding the right workout. The key is working with a coach that can unlock or breakthrough those things holding you back from achieving success. That is what I enjoy about my job.
 Make personal training more affordable by working out with a friend or two.
It is true. I train families, friends co-workers and couples.