Meet Mike, Your Fitness Coach
 (Unofficial Biography)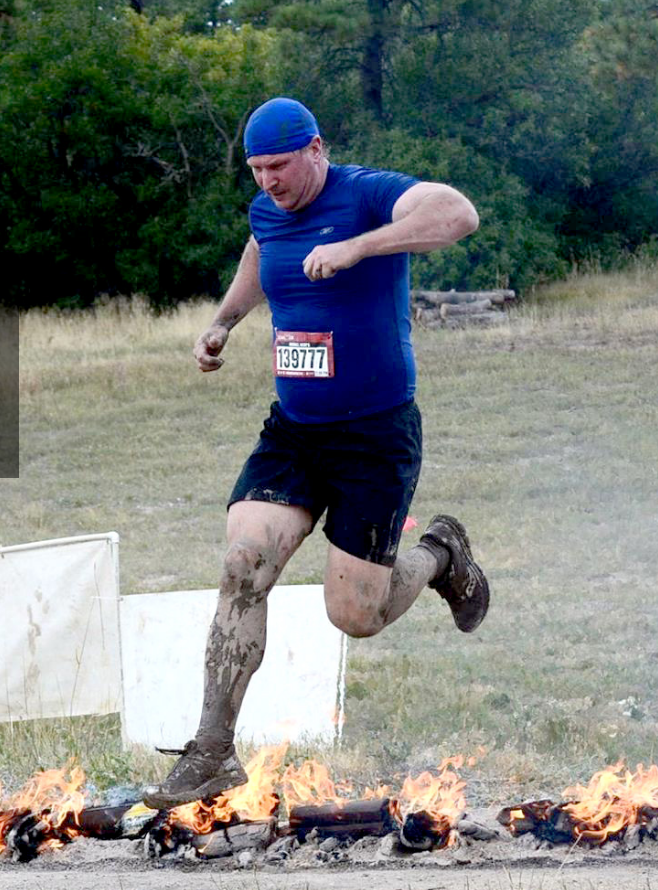 Would you believe that this guy, covered in mud and jumping over a fire pit was once a weakling who got pushed around in school?
( By the way, as your coach I will not make you jump in a mud bath or jump over fire. This is just stuff I do in my spare time:))
True story. At 15:
I was 6'0″ and 140 pounds.
Had severe asthma.
Couldn't do a regular push-up.
Failed every President's fitness test in school.
Couldn't run a lap around a track.
Until I decided to go against the Doctor's advice and do something about it. This is what you call an epiphany.
Epiphany #1
I was tall, weak and miserable with bad self-esteem. If I didn't do anything about it, this would be my life.
So I did something about it and it changed my life.
Fast forward to kids, corporate job, mortgage and big screen t.v's.
Life was hectic but comfy. I had a comfy chair to enjoy my big screen tv, the pantry had cookies and candy for the kids and I was now getting fat. I guess you could call it "Dad" fat. I didn't give birth to our kids but it was starting to look like I did. Not good.
Epiphany number #2
The things I did to get in shape back in high school didn't work now. I had less time and less energy. To get back in shape I would have to figure out how to fit working out and running in with my lifestyle as an adult.
And I did.
So if you go over to my other website, www.bigmanruns.com, you will see what I am doing at age 52.
Spartan races
Half-Marathons
Trail Runs
I am not bragging about this stuff, in fact, I make it a point to let people know I am not the fastest guy out there.
To stay in the game I have had to become very smart in my training and recovery and this is what I can teach you.
But the fact is that I am out there doing what I want to do.
What are your goals?
Fit into pants you haven't worn in 5 years?
Play a round of golf without back pain?
Carry groceries into the house in one trip?
Whatever your goals are, they are good ones and I want to help you get there.
So remember this.
Never let other people define you.
And never let people tell you what you can and can't do.
Sound good?
We should talk about it.
Please fill out this for a free 30 minute No-Obligation consultation
or call me at 303-204-4306.
This includes Body Fat testing and Joint Assessment.
2016 Races
Spartan Military Sprint Fort Carson
Summer Prairie Dog Half-Marathon Castle Rock
Wildcat Ridge 10 M Trail Run- Highlands Ranch
Parker Labor day 10K- Parker
Warrior Dash- Larkspur
Ridgeline Half-Marathon Trail Run- Castle Rock
Pumpkin Pie 5K Denver
Santa's Stampede 10K- Littleton
2017 Races
Jan 15 -Arctic Prairie Dog 10K- Louisville
Jan 21- Frosty's  Ten Miler- Hudson Gardens
February 18- Snowman Stampede
April 9 Prairie Dog Half Marathon Arvada
May 13- Fort Carson Spartan Super
May 14- Fort Carson Spartan Sprint
July 22 Prairie Dog Half-marathon Castle Rock
August 26 Terrain race 10K
August 27 Spartan Sprint Breckenridge
September 16 Warrior Dash Larkspur
October 7th Ridgeline Half-marathon Train (The revenge)
Qualifications
Corrective Exercise Specialist- BioMechanics Method
ISSA Certified Elite Trainer
ISSA Certified Specialist in Corrective Exercise
ISSA Certified Specialist in Sports Nutrition
NFPT Certified Master Trainer
Precision Nutrition Level 1 Nutrition Coach
Awards