Meet Mike, Your Fitness Coach
 (Unofficial Biography)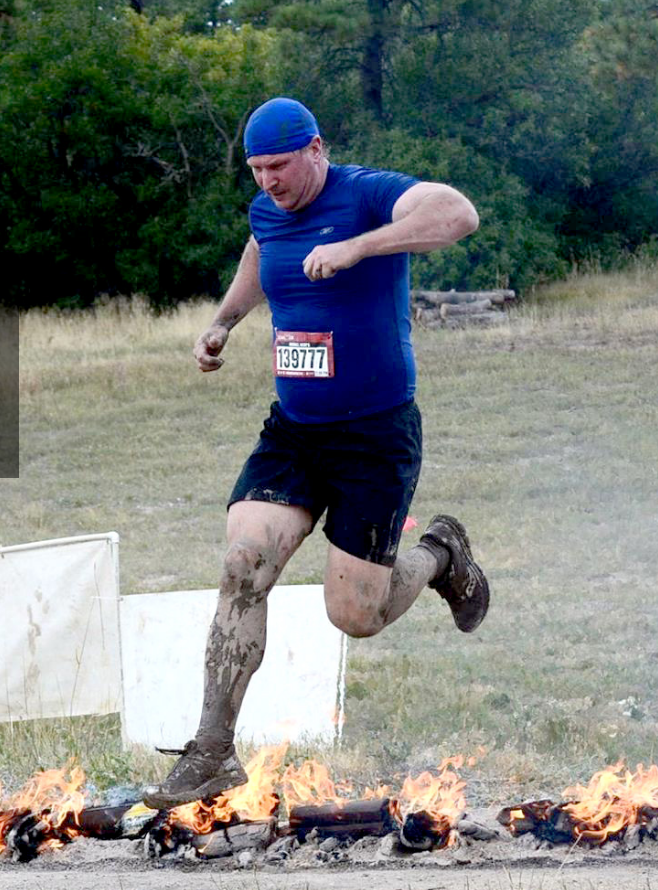 What some guys will do to get a beer!
All you need to know about me is one simple principle.
"You don't have to stop doing the things you love just because you are getting a little older."
I like:
Lifting heavy things
Finishing Spartan races
Running half-marathons.
And the older I get, the more I improve.
How old? 52.
The key is knowing how to train and how to fix yourself when you get a little knicked up.
In other words, I try and fix little things before they become big things and that is what I teach my clients.
I am in better shape now than when I was in high school.
Actually, that isn't saying much since I was a weak, tall, skinny asthmatic kid. But back then at age 15 I realized something profound.
Never let other people define you.
And never let people tell you what you can and can't do.
Doctors told me not to exercise because it would make my asthma worse.  I thought to myself, "How could exercising make my situation any worse than it already is?"
I was timid, lacked self-confidence and was generally miserable. I couldn't run a lap around a track or do a push-up.
Yes, that is how bad it was!
The truth was exercise saved me. It was the best thing for my confidence and it changed my life.
Hopefully I can pay back the favor and change your life too.
So after a corporate career, I decided to start M Factor Fitness in 2003.
Back in school I took tests to determine what career I should pursue. Test after test came back as CEO or teacher. I never had the skills to become CEO of a large company, so I started my own.
I never wanted to be a large volume boot camp guy or generic personal trainer guy.
What I want to do is work with clients one on one and get results. Here is what I found.
The Fitness Industry is based upon a Big Lie
The industry would like you to believe you can join a health club or buy a DVD and in a few weeks be in the best shape of your life.
Let me be blunt about this.
If you have been sitting at a desk job and sitting around at home, this probably won't happen and it won't be because you aren't trying.
And it won't be because you aren't eating right.
You probably have one or several alignment issues caused by inactivity, sitting or previous injuries that have drastically altered the way you move.
This is a nice way of saying if you have tight hip flexors, a weak butt, hunched shoulders and tight neck, exercise will only make those issues worse.
It can't make them better and the exercises people choose usually are the ones that will aggravate those conditions.
If you have knee pain because your knee isn't tracking properly, how in the heck are you going to fix that in the gym?
You can't and that is where I come in.
The secret to getting in shape and more importantly, staying in shape is this.
Seek out problem areas in the muscles and un-knot them.
Create length in the muscles so the joints can sit properly.
Strengthen the muscles around the joint to lock in the proper alignment.
If you do this, you will have pain-free movement and be able to workout.
Yup, you can do that with a couple simple techniques and a little effort. Make sense?
What about weight loss and toning?
Who is going to be more apt to workout consistently, a person with chronic pain or someone who is pain-free? See my point?
So don't worry about that, I will get you lean and strong as we fix things.
My clients are family to me. They are special.
I don't care how long it has been since you have worked out. I will start you at a level that is appropriate and safe.
All I ask is that you show up and try.
My training style focuses on:
Restoring full movement to joints and fixing joint pain.
Making you strong.
Replacing fat with muscle.
Eating better.
Changing the way you see yourself.
The most important thing I can show people is that you can get in great shape and still enjoy your life.
Some fitness pros try to pass themselves off as some sort of fitness monk who only eats organic foods and sips coconut water all day.
Yeah, those people irritate me too.
I live to eat and have fun. Give me some good BBQ and a cold beer and I am happy.
Life is for enjoying. Too many people spend their time beating themselves up and being unhappy. Screw that. Life is too short.
If you have 30 minutes to an hour a day to devote to changing yourself, I can help you.
We will start at a level that is appropriate for you.
You will always have a plan of action.
I will always be honest with you.
We will work on fixing any aches and pains.
You will learn how to be your own physical therapist.
You will learn how to eat to change your body.
Sound good?
We should talk about it.
Please fill out this for a free 30 minute No-Obligation consultation
or call me at 303-204-4306.
This includes Body Fat testing and Joint Assessment.
2016 Races
Spartan Military Sprint Fort Carson
Summer Prairie Dog Half-Marathon Castle Rock
Wildcat Ridge 10 M Trail Run- Highlands Ranch
Parker Labor day 10K- Parker
Warrior Dash- Larkspur
Ridgeline Half-Marathon Trail Run- Castle Rock
Pumpkin Pie 5K Denver
Santa's Stampede 10K- Littleton
2017 Races
Jan 15 -Arctic Prairie Dog 10K- Louisville
Jan 21- Frosty's  Ten Miler- Hudson Gardens
February 18- Snowman Stampede
April 9 Prairie Dog Half Marathon Arvada
May 13- Fort Carson Spartan Super
May 14- Fort Carson Spartan Sprint
July 22 Prairie Dog Half-marathon Castle Rock
August 26 Terrain race 10K
August 27 Spartan Sprint Breckinridge
September 16 Warrior Dash Larkspur
October 7th Ridgeline Half-marathon Train (The revenge)
Qualifications
Corrective Exercise Specialist- BioMechanics Method
ISSA Certified Elite Trainer
ISSA Certified Specialist in Corrective Exercise
ISSA Certified Specialist in Sports Nutrition
NFPT Certified Master Trainer
Precision Nutrition Level 1 Nutrition Coach
Awards