10 Reasons to do a Warrior Dash.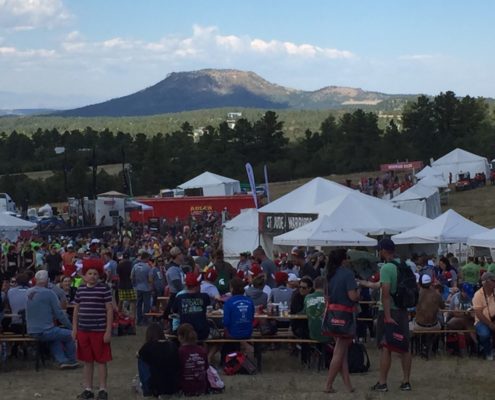 Obstacle course racing is one of the fastest growing sports, yet people who don't do it know little to nothing about it. The Warrior dash is maybe the best race for people who want to see what this stuff is all about.
So I am going to do my best to see if I can't get you interested in signing up for a race.
Why would anyone want to climb over obstacles, crawl in mud and jump over a fire pit?
Good question.
Let me be totally upfront with you. I always dismissed these races as gimmicky and well, stupid. Yes, I said stupid.
Then I thought about it one day.
What was it that I didn't like?
Then it hit me, I was scared I couldn't complete all the obstacles. I was scared that I would look silly!
That was the game changer for me.
I was avoiding something I felt I couldn't do.
Then it hit me.
An obstacle course is a metaphor for the obstacles in your life.
You learn to conquer the physical obstacles so you can overcome the mental ones.
The idea is to test yourself. Prove something to yourself.
Once you start dealing with the things in your life that scare you or make you anxious, you grow as a person.
So to answer an age old question, "why do an obstacle race?"
Answer: Because you are not sure if you can.
That is the best reason I can give you.
So here are 10 facts about the Warrior Dash.
Fact #1 Anyone Can do This.
Yes anyone.
You can walk the course or you can run the course.
You can take as much time as needed with the obstacles. There is no pressure.
Fact #2 It is a Fun atmosphere.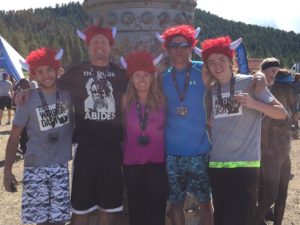 Just look at these yahoos. Oops, how did I get in that picture?
Actually I did the race with my friends, the Steiners. It was their first time.
And see…they're smiling!
Fact #3 It is a Relatively Short Course.
5 K is 3.2 miles. This is a distance where most people can do it between 40 minutes to 1:15.
But it doesn't seem long because you are always doing something.
Fact #4 Doable Yet Challenging Obstacles.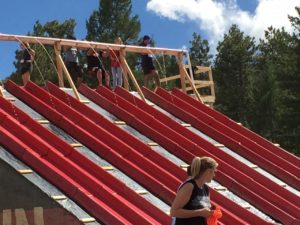 You can even go the warrior dash website,
www.warriordash.com and they will show you what obstacles are
on the course and how to best deal with them.
Very nice of them if I do say so. There aren't any strength obstacles here, most of them involve climbing,
going under stuff, walking over stuff and getting very muddy at the end.
Fact #5 Do Something You Have Never Done Before.
You know you are bored with your gym workouts. Get out of the air conditioned prison you call a gym and go run around in the woods for an afternoon.
It is good for the soul!
Fact #6 See exactly how fit you are.
Oh yes, you heard me right. I am talking to you. The person who thinks they are fit because they can run 3 miles on a treadmill.
Or the average weight lifting guy. Take that gym strength and endurance and see how you do on a hilly course that will cause you to
use muscles you never thought you had.
Fact # 7  The Warrior Dash is the Best Gateway to Obstacle Course Racing.
If you are still reading this, you may be thinking of what race to start off with. A lot of it depends on your personality. I jumped right into the Spartan
race because I wanted my butt kicked. Tough Mudders and Spartan races are longer and harder than a Warrior Dash. So if you are really gung-ho about this, do those events.
If you want to take a little pressure off of yourself, give the Warrior Dash a try. I see it as a great way to go out to the mountains workout and get a little muddy.
Fact #8 They have the Best Fuzzy Viking Helmets
It has been scientifically proven that the best way to attract a mate is to wear a fuzzy viking hat.
Fact #9 Free beer
See picture above. What is even sexier than a fuzzy viking hat is someone with a fuzzy viking hat and a beer.
I would not recommend the pretzel beer. Kinda weird for my traditional taste.
Fact #10 Get Muddy For a Great Cause.
Warrior dash has team ed up with St. Judes. Nuff said.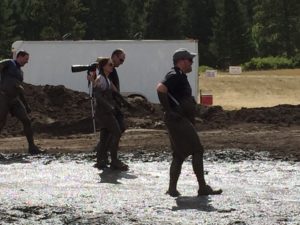 http://mfactorfitnessandnutrition.com/wp-content/uploads/2017/09/MFactor_Fill_noTag.png
0
0
Michael Medvig
http://mfactorfitnessandnutrition.com/wp-content/uploads/2017/09/MFactor_Fill_noTag.png
Michael Medvig
2016-10-06 07:24:43
2017-01-10 03:42:24
Warrior Dash 2016 Larkspur Colorado