Simplify! A FREE 7 Day Course to Get More Results in Less Time
[/precontent]
Watch my final video on how to
Simplify your workout and get more results in less time.
[frame id="day1″ link="https://youtu.be/RN_iPSC4MqI" linking="lightbox" align="center" type="projector-screen"]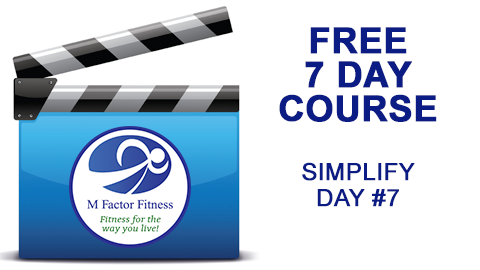 [/frame]
[divider]
Mind Control
At this point there has been a lot of information. Some of it new and maybe some of it stuff you know you should be doing.
So why haven't you been doing it? Blame it on that lump of grey stuff inside your head. You would think the brain would cooperate with you in your goal of getting back in shape. For whatever reason, the brain will work overtime to sabotage you. Past experiences, bad associations, fear and a number of other reasons can derail you. And it happens to everyone. Myself included.
And you are so close to making a change!
Well, I am not going to play pop psychologist but I will give you a trick to handle those voices that will pop up in your head.
Weird stuff that will happen when you decide to get back in shape.
Voices inside your head will try to get you to shortcut or stop the workouts. We all get these so you aren't crazy. Just normal.
You may come down with mysterious aches and pains that disappear as quickly as they disappear.
Friends, spouses and others may try to talk you out of your goals.
Things you can do to stop this.
Realize these things will come up and be ready for them. This will take away the power they can exert.
Tell the voices to shut up and go away. If you do this consistently the voices will lose their ability to persuade you.
Make it clear to everyone that this is your workout time and you are not going to miss it.
Keep your goals in front of you.
It is my sincere hope that these 7 days have been productive for you. At the very least they have caused you to rethink how you eat and workout.
I hope this isn't the end.  You are still on my newsletter list and if you liked my Facebook page you will be getting good stuff everyday.
If you need workouts and program ideas, MyWorkoutPro has hundreds of workouts and it is only $10/month.
If you want more accountability then take a look at my Online training programs.
As always, I want to hear from you. Let me know what you think of this course.
Best of luck,
Coach Mike
[dropcap type="square"]+[/dropcap] Ready To Take This To The Next Level?
For a free consultation to see if my personal training or online training is a good fit for you, call me at (303) 204-4306 or click the button, fill out the form and I will contact you.
NO PRESSURE. NO OBLIGATION.
[button link="/" size="big" type="wide"]Get Started Now[/button]