The M Factor Fitness January Fitness Challenge is here.
Operation Enduring Warrior 5K, 10K or Half marathon.
Note:
This was a run scheduled for Veteran's day. They still have medals available so I thought this would be a good time to help these guys out.
Start the year off right. Set a good fitness goal for yourself and help out a worthwhile charity.
Virtual runs are scheduled for a set period of time but if they still have spots open, you can do the run anytime. Just sign up now to reserve your spot.
The January Fitness Challenge.
Part 1: Running
If you like the idea, click and sign up here. Your choices are for a 5K, 10K or Half-marathon.
You are now committing yourself to doing the run sometime in January. Congratulations!
Once you complete the run (remember that you can run, walk, bike, skate or swim), log back into Virtual Strides and record your result.
Wait for your finisher's medal to be mailed to you.
Take a picture of it along with you enjoying your favorite beverage of choice.
Part 2: Training
Commit to training for your run by telling me and the world how you are going to train.
Here are some examples.
These are ways you can measure your training. Put down what you think you can reasonably do.
Choose one kind of training and fill in your own numbers.
I will run 50 miles this month.
I will spend 20 hours on the treadmill.
I will walk at least a mile 25 days this month.
You can email me or put it on the M Factor Fitness Facebook page. Look under events for the January challenge.
I do these every month and I will be posting updates on how I am doing.
6 Solid Reasons You Should Do This Challenge.
You need a goal with a deadline.
Yes the holidays are over but it is cold and dark in most of the country. Force yourself to get moving again.
Long Slow Cardio Burns Fat
I realize High Intensity interval training (HIIT) is all the rage these days. Long slow cardio is under attack even though it shouldn't be.
This is pure marketing. Anytime someone can sell you faster results in less time, it will get attention.
I am not saying high intensity exercise doesn't produce results but consider this:
Long slow cardio is more relaxing.
It works on the oxidative energy pathway that relies on fat rather than carbs for fuel.
You can do it everyday.
You can inspire a friend to join you.
We all know somebody who is waiting for a reason to get in shape.
This virtual run challenge is the perfect opportunity because almost anyone can walk a 5K if they have a month to train.
Get in a habit
A question I get asked most often is, "How often should I work out?"
Then whoever asked the question regrets asking because the answer is "everyday".
If you have something planned everyday, chances are you are going to miss one or 2 workouts in a given week. That is still 5 or 6 you got in.
Pretty good. Actually, very good.
Contrast that with planning 3 workouts a week.
Miss 1 or 2 and what do you have? Jack Squat.
You don't have to set the world on fire every day. In fact, that would be a very bad idea.
Cycle your intensity of workouts. A classic way to do this is to alternate hard and easy days. Follow a hard workout with an easy run.
Support a great charity
Why pay money for a virtual run? I can do this anytime on my own for free.
Let me be blunt. No you won't.
Once you sign up, you put skin in the game.
Once you state to the world what you are going to do, you have accountability.
I gladly sign up for these events because I know that once I sign up, I am forced to do it.
I like the idea that at the end of the month I will be in better shape and that I am helping a charity.
I will help you
If you sign up for the run and have any training questions, I will be happy to answer them for you.
nutrition questions
training questions
rehab questions
Operation Enduring Warrior
In honor of Veterans Day, support our nation's wounded veterans by participating in the Operation Enduring Warrior virtual 5k/10k/Half Marathon. Run or walk your selected distance whenever and wherever you want to spread awareness and support the cause. All participants will receive a digital race bib and a 4″ bottle opener medal (the ribbon is detachable) in the shape of the charity's logo, featuring a 3D-molded gas mask in honor of their Masked Athlete Team.
The Charity
Operation Enduring Warrior (OEW) is a veteran-founded charity whose mission is to honor, empower, and motivate our nation's wounded veterans through physical, mental and emotional rehabilitation. OEW's programs help participants overcome adversity and hardship through innovation, teamwork, and perseverance. This ultimately enables the lives of wounded veterans to go in directions they may have once thought were impossible. OEW is a 100% volunteer-run organization. Donations go directly towards operational support of the organization and its various programs such as Skydive Licenses, SCUBA Certifications, Athletic events (obstacle course and road/trail races, handcycle races, etc.), Public Speaking, Adventure Trips, Veteran Outreach and more. OEW's "Warrior Christmas" event is coming up, which facilitates a visit to Walter Reed National Military Medical Center to spread encouragement and hand-deliver brimming Christmas stockings to recovering wounded veterans.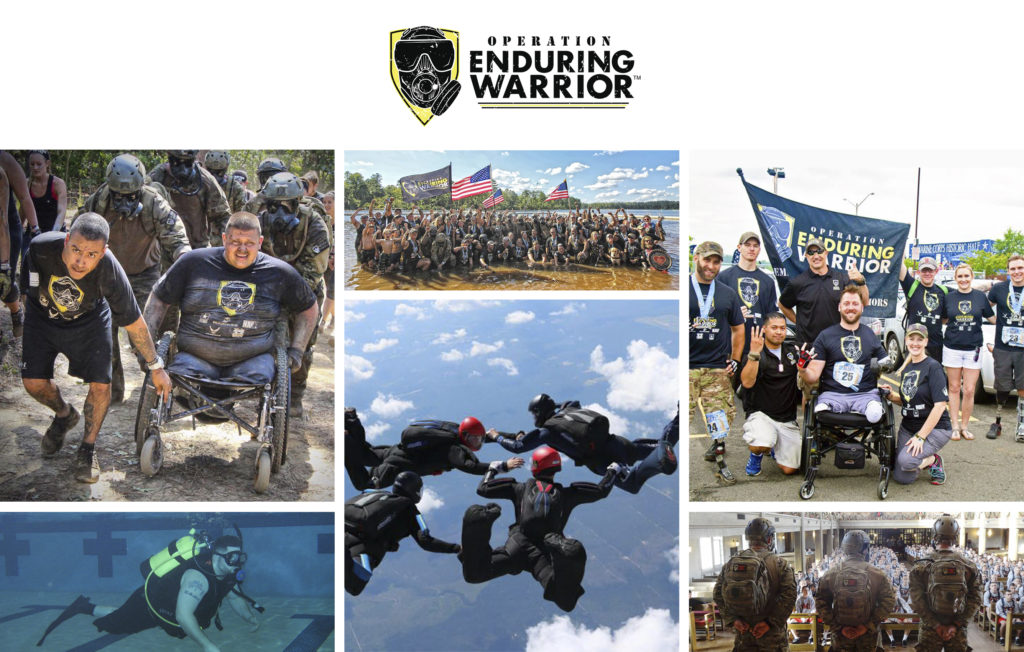 About the Mask:
OEW's Masked Athlete Team are specially trained volunteers who support our wounded veterans with the physical and mental adversity of extreme athletic challenges. The MAT spends countless hours preparing and researching ways to successfully assist our wounded veterans in negotiating extreme athletic challenges. Past events have included obstacle course races, hand-cycling, 5k and 10k races, and half/full Marathons.
A portion of the proceeds from this virtual race (at least $5 from each registration) will be donated to Operation Enduring Warrior. For more information about this charity or to make a direct contribution, please visit EnduringWarrior.org.
http://mfactorfitnessandnutrition.com/wp-content/uploads/2017/09/MFactor_Fill_noTag.png
0
0
Michael Medvig
http://mfactorfitnessandnutrition.com/wp-content/uploads/2017/09/MFactor_Fill_noTag.png
Michael Medvig
2016-12-19 17:33:24
2016-12-19 18:02:02
January Fitness Challenge- Operation Enduring Warrior