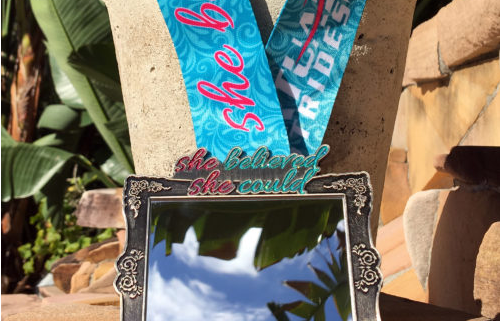 January Fitness Challenge 2: She Believed She Could So She Did Virtual Run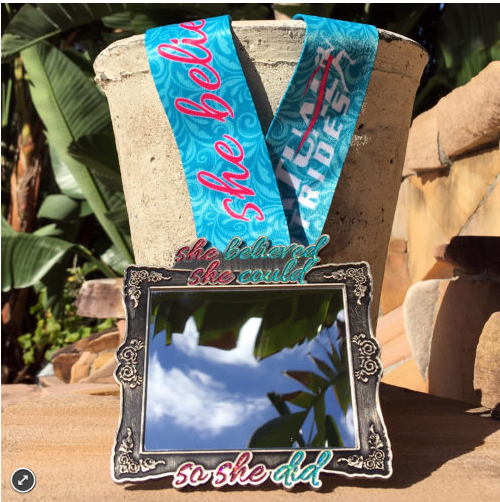 The January Fitness Challenge 2.
When January 1 hits, you will hear people making a number of resolutions.
One of the most popular ones is always "I am going to get in shape this year".
As a trainer and coach, the most important thing I tell people is that you need to put some skin in the game.
By that I mean commit to doing something now. It doesn't have to be a mind-boggling achievement. It just has to be something.
The "She believed she could so she did" virtual run is a great way to take that first step.
Ever do a virtual run?
This one is for the ladies… New Year, New You! Join the She Believed She Could So She Did virtual 5k/10k/Half Marathon and run or walk your chosen distance anytime and anywhere you want to earn this inspirational framed mirror medal. Yes, the 4″ medal is a real mirror with a fold-out stand on the back, so you can display it on your desk as a daily reminder that you can achieve anything you put your mind to.
Want a matching shirt? During early registration (through 12/31), we will be holding a She Believed She Could So She Did campaign at Booster where anyone interested can order a matching race shirt in a variety of styles (ladies short sleeve, ladies long sleeve, unisex hoodie) and two different text colors (hot pink and metallic silver). These shirts will be delivered separately from medals in mid-January, and 100% of the additional funds raised through this campaign will be donated to the featured charity in addition to our standard per-medal donation!
The Charity
Left unchecked, tobacco will kill one billion people in the 21st century. Action on Smoking and Health (ASH) has a long history of taking action against tobacco use and its devastating health and economic impact on people and communities around the globe. For more than 40 years, ASH's goal of a tobacco-free world has remained constant. The tobacco epidemic is global and so must be the solutions. From advocating for bans on cigarette advertising and smoking in public spaces to challenging the influence of the multinational tobacco industry—ASH takes action on a global scale.
A portion of the proceeds from this virtual race (at least $5 from each registration) will be donated to ASH. For more information about this charity or to make a direct contribution, please visit Ash.org.
Not so fast, this January Fitness Challenge has 2 Parts to it.
Part 1: The run
If you like the idea, click and sign up here. Your choices are for a 5K, 10K or Half-marathon.
You are now committing yourself to doing the run sometime in January. Congratulations!
Once you complete the run (remember that you can run, walk, bike, skate or swim), log back into Virtual Strides and record your result.
Wait for your finisher's medal.
Part 2: Training
Commit to training for your run by telling me and the world how you are going to train. This part is free.
Here are some examples.
These are ways you can measure your training. Put down what you think you can reasonably do.
Choose one kind of training and fill in your own numbers.
I will run 50 miles this month.
I will spend 20 hours on the treadmill.
I will walk at least a mile 25 days this month.
You can email me or put it on the M Factor Fitness Facebook page. Look under events for the January challenge.
I do these every month and I will be posting updates on how I am doing.
6 Solid Reasons You Should Do This Fitness Challenge.
You need a goal with a deadline.
Yes the holidays are over but it is cold and dark in most of the country. Force yourself to get moving again.
Long Slow Cardio Burns Fat
I realize High Intensity interval training (HIIT) is all the rage these days. But most people can't and don't want to do it.
And that is actually okay.
The case for Long, slow cardio.
Long slow cardio is more relaxing.
It works on the oxidative energy pathway that relies on fat rather than carbs for fuel.
You can do it everyday.
You can inspire a friend to join you.
We all know somebody who is waiting for a reason to get in shape.
This virtual run challenge is the perfect opportunity because almost anyone can walk a 5K if they have a month to train.
Get in a habit
A question I get asked most often is, "How often should I work out?"
Then whoever asked the question regrets asking because the answer is "everyday".
If you have something planned everyday, chances are you are going to miss one or 2 workouts in a given week. That is still 5 or 6 you got in.
Pretty good. Actually, very good.
Contrast that with planning 3 workouts a week.
Miss 1 or 2 and what do you have? Jack Squat.
You don't have to set the world on fire every day. In fact, that would be a very bad idea.
Cycle your intensity of workouts. A classic way to do this is to alternate hard and easy days. Follow a hard workout with an easy run.
Support a great charity
Why pay money for a virtual run? I can do this anytime on my own for free.
Let me be blunt. No you won't.
Once you sign up, you put skin in the game.
Once you state to the world what you are going to do, you have accountability.
I gladly sign up for these events because I know that once I sign up, I am forced to do it.
I like the idea that at the end of the month I will be in better shape and that I am helping a charity.
I will help you
If you sign up for the run and have any training questions, I will be happy to answer them for you.
nutrition questions
training questions
rehab questions
More question? Check out this post with F.A.Q's on my Monthly Challenges.
http://mfactorfitnessandnutrition.com/wp-content/uploads/2016/12/Screen-Shot-2017-01-17-at-9.12.03-PM.png
502
500
Michael Medvig
http://mfactorfitnessandnutrition.com/wp-content/uploads/2017/09/MFactor_Fill_noTag.png
Michael Medvig
2016-12-19 18:00:08
2017-01-22 23:10:44
January Fitness Challenge 2: Ladies Only