Customize Your Online Workouts
Did you know you can customize online workouts with M Factor Fitness?
Is that not cool or what!  It is simple and easy to completely customize your workout.
Note: These are workouts I designed myself. Don't get too crazy swapping out exercises. I put them in for a reason.
If you are a member you know this but when you enroll in my M Factor Online training I will load a number of workouts on your phone app.
These include :
Warm-ups and Cool-downs
Get off the Couch 4 week Kickstart Program
10 Minute Ab Workouts
Upper Body workouts
Lower Body Workouts
Quickie workouts that require little equipment and can done almost anywhere.
My Philosophy with Online workouts
I see a number of programs start off with ridiculously hard exercises that are wildly inappropriate for beginners.
You may think is it cool to try pistol squats even if you can't do a 2 leg squat.
It isn't cool, trust me.
I think some people even think it is a badge of honor to have their knees ache the next day to show how hardcore they are.
And if you want that type of adventure there are a number of programs that can get you injured within a short period of time, I am not going to be a part of that.
I like my clients to make progress so I approach things a little different.
We start by building a foundation. Once you learn and get strong with the basic exercises, we can add on harder variations.
That being said, I still do almost all the basic exercises listed. There are more than enough workouts available to you with different exercises to keep you interested. I guess what I am saying is don't be in a hurry to try exercises you aren't ready for. The clients I have trained that have made the most progress focus on perfect form.
I am also trying to make my personal coaching affordable and accessible to everyone.
To do that I need to keep things simple. In fitness simple is better. Always.
If you need help or have questions you can always email me. There are no exceptions to this. I am here to help you.
So back to the task at hand.
Why Customize Online Workouts?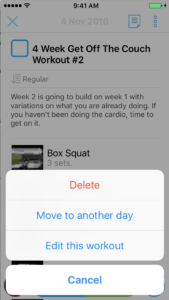 I see 3 reasons why you might want to modify a workout.
You don't have the equipment.
You want a more advanced or more basic exercise.
You are working around an injury.
What is the Workout Library?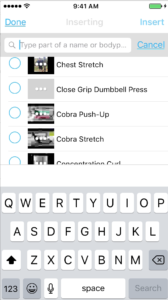 The workout library contains over 100 exercises that I have shot with HD video.
As you can imagine, there is no way to put all these exercises into your workouts. It would take up a lot of memory and the your phone would slow to a crawl.
I have hand-picked all these exercises so you aren't going to find any clunkers. But sometimes you may want to switch out a couple exercises for variety.
The best thing to do is play around with the app for a while. You can't mess anything up and in case you do, I will help you fix it.
So watch the video and let me know what you think.
Not a member yet?
You're kidding.
These are screenshots from my online training program. Become a member and see the videos in HD.
For the ridiculously low price of $10/month you can get access me as your personal trainer.
Free app download.
Membership to my private Facebook page.
Access to a bunch of workouts all with HD video, descriptions and pictures.
Fill your calendar with workouts in the app.
Customize workouts. Switch out exercises from my library of over 100 exercises.
Ask me fitness/nutrition questions.
Be a part of a community.
http://mfactorfitnessandnutrition.com/wp-content/uploads/2017/09/MFactor_Fill_noTag.png
0
0
Michael Medvig
http://mfactorfitnessandnutrition.com/wp-content/uploads/2017/09/MFactor_Fill_noTag.png
Michael Medvig
2016-11-13 16:19:56
2017-01-10 03:34:51
Customize Online Workouts