Get a great core workout in 6 minutes.
Impossible to get a core workout in 6 minutes you say? Okay, go and do your endless crunches and twists.
You know you really don't have to.
Try this workout and become a believer.
The Basics
3 exercises, each done for 15 reps.
Repeat for as many loops as you can for 6 minutes.
It can't get easier than this, at least to describe.
The harder you attack the workout, the more you will get from it.
M Factor Fitness Online Training
This is one of the workouts on my Online Training App.
What I did was take screenshots of the program to give you an idea what to do.
Members get this on their phone. All workouts include HD video along with descriptions.
If you like this workout and want to give my training a try, click here.
P.S. It is only $10/month. That's about 30 cents a day!
Step 1: Set Your Timer for 6 Minutes
Step 2: Familiarize Yourself with the Exercises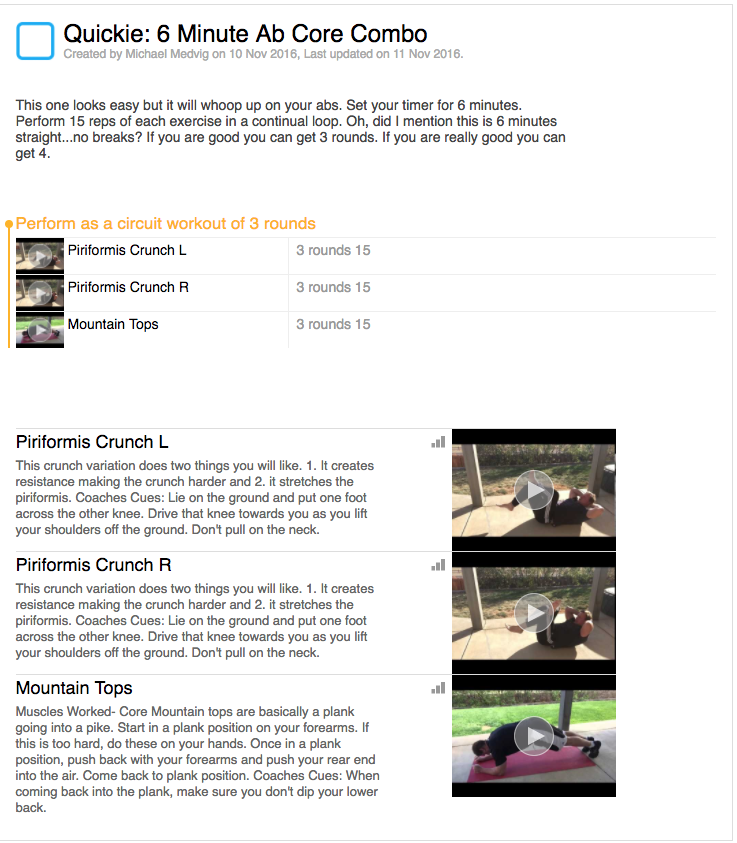 Step 3: Do the Core workout
Sometimes the simplest workouts are the hardest to do.
As we say in Texas, hunker down and do it.
Step 4: Let me know what you think of this core workout.
I put a bunch of these short core workouts in my training for a couple of reasons.
When time is short, you need to have quick workouts.
You don't need any equipment.
Don't think. Just do.
If you want to get in better shape, consistency is the biggest factor. With my online training you will always have a workout handy!
For the ridiculously low price of $10/month you can get access me as your personal trainer.
Free app download.
Membership to my private Facebook page.
Access to a bunch of workouts all with HD video, descriptions and pictures.
Fill your calendar with workouts in the app.
Customize workouts. Switch out exercises from my library of over 100 exercises.
Ask me fitness/nutrition questions.
Be a part of a community.
http://mfactorfitnessandnutrition.com/wp-content/uploads/2017/09/MFactor_Fill_noTag.png
0
0
Michael Medvig
http://mfactorfitnessandnutrition.com/wp-content/uploads/2017/09/MFactor_Fill_noTag.png
Michael Medvig
2016-11-12 16:15:42
2017-01-09 01:19:00
6 Minute Core Workout