WOW Workout Of the Week #3
Welcome to one of the greatest wonders in Colorado.
People speculate who actually built these ancient stairs. Aztecs? Perhaps. Egyptians? Maybe. The little people of Stonehenge?
Whatever mysterious race built these stairs, they had great cardio. And you will too if you do this workout.
Where: Phillip Miller Park, Castle Rock Colorado
These stairs are easy to find. Go down 1-25 and exit plum creek. Head west and this will be on your left side.
What: A 200 step stair climb.
The good news: You won't feel the first 40 steps.
The bad news: You will have 160 more to go.
The workout is simple. Walk to the top, take the winding path down and repeat.
I do this workout as 5 loops with no rest.
Do this once a week and you will see great cardio improvement as well as leg strength and endurance.
Quick Facts:
5 laps equal 3 miles and will probably take you around and hour plus.
At the top of the stairs my heart rate was at 160 bpm. If you don't know, that is close to max.
My Adidas running app said I burned 387 calories.
So if you have never done anything like this, please take it easy.
These stairs are unforgiving and your heart rate is going to skyrocket.
Legal disclaimer:
Please use common sense. I am talking about an intense workout for people who have a good level of fitness. if you haven't done a lot of cardio, this may be too hard. Try it and take breaks or better yet, just walk up and down the path for a couple workouts until you can handle the stairs. Use your head.
5 Ideas to help you on your conquest
1: Pace, Pace,Pace.
Your goal should be to make it to the top without the dishonor of stopping. That is it. You will have plenty of time to catch your breath on the way down. Start too fast and things are going to get ugly, very quickly. I would hate for you to lose your balance, trip and fall into a cactus. Start slow and pace yourself.
2. You don't have to climb 200 stairs. You just have to climb one stair at a time.
Don't let the big picture freak you out. Yes it is a lot of stairs but it is very doable. The stair numbers are engraved every ten steps to help you keep track.
Another method is to look off to your right and ignore the numbers.
I have tried both methods and both seem to have good psychological benefits.
All I know is don't look up!
3. Take the path down instead of walking down the steps.
Going downhill is a lot harder on your knees than going up. If you are light and springy like a gazelle, it may not be a problem but at 240 pounds I land with a lot of force. One of my objectives (and it should be yours too) is that training is not competing. I want to work on leg strength and cardio but I don't want to wreck my knees doing it. The path down is fairly challenging because it is uneven and steep in parts. This is enough to work on your knee and ankle stability without blowing them out.
If you really want to go down the stairs, have at it. It is a great way to make an intense workout even more intense.
4. Remember that this is as much a mental workout as a physical one.
If you are in decent shape, your body will be able to do this. Trust me.
The real enemy here is not the steps but your mind because you will be hearing that inner voice chatter all the way up.
There are a couple ways to negate that inner voice.
Listening to music seems to help.
Tell the vice to shut up, you are not going to stop.
Keep it positive by celebrating every ten steps. "Cool, I am halfway there and going strong!"
5. Don't Eat Too Much
Somebody did not follow my advice.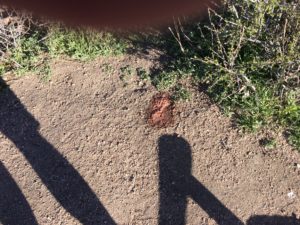 Bonus Tip:
If you want to work the whole leg instead of just the quads, push off the step with your entire foot, not just the ball. Yes, this is a little slower, but you will involve the glutes more, which is always a very good thing.
If you like this, take two-seconds and join my other social sites so you don't miss a thing:
Facebook: http://facebook.com/mfactorfitness


Twitter: http://twitter.com/mfactormike
YouTube: http://youtube.com/mfactorfitness
http://mfactorfitnessandnutrition.com/wp-content/uploads/2017/09/MFactor_Fill_noTag.png
0
0
Michael Medvig
http://mfactorfitnessandnutrition.com/wp-content/uploads/2017/09/MFactor_Fill_noTag.png
Michael Medvig
2016-05-22 21:29:49
2016-05-22 21:30:03
Castle Rock Stair Climb